SAFE ENVIRONMENTS
Workspaces committed to the new normality
Weekly or monthly contracts, with no unforeseen expenses
Make decisions, with confidence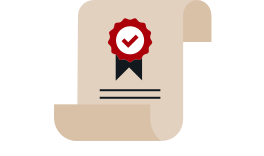 We put safety first
Official safe spaces' certification "Guarantee Madrid"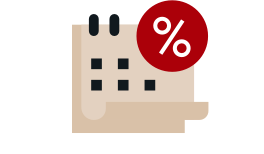 Easy for you from the very beginning
Special rates and discounts!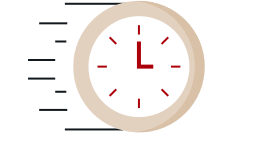 It is no time for long-term commitments
Enjoy the benefits of our flexibility on contract duration, book weekly or monthly!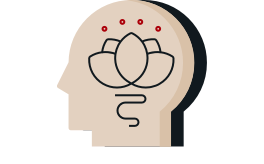 Cutting down uncertainty
You may cancel your contract at any time within the first three months, or freeze it for a month and extend your membership for one additional month at the end.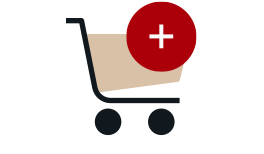 We stay away from impersonality
Our proposal, specially made only for you, including all the extra services that best suit your requests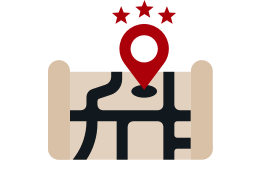 All without compromising quality
Your all-inclusive flex office, located at the best communicated areas, and with a space per workstation rate much bigger than the average.
BE FLEXIBLE
NEW SOLUTIONS IN FLEX SPACES
1. We customise our services according to your business' needs
These are the new options: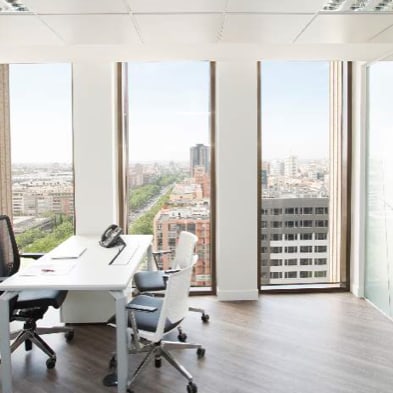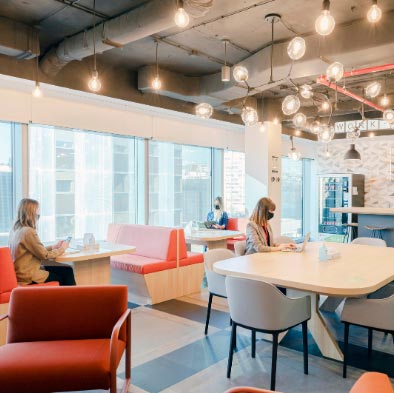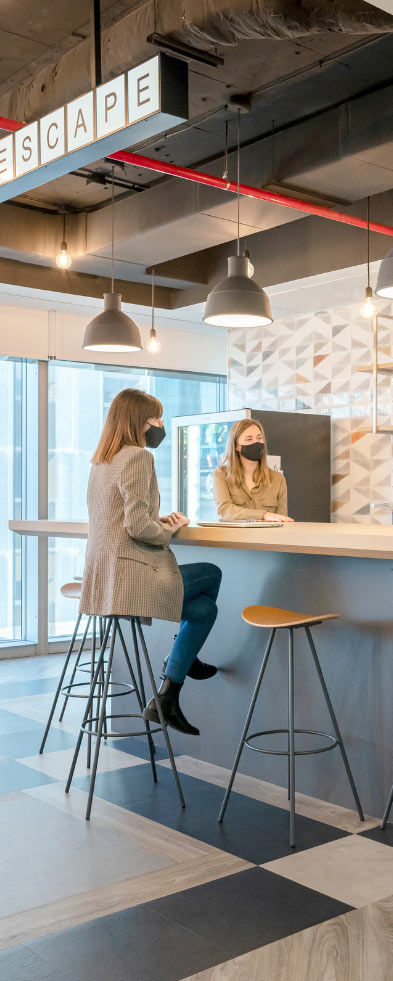 BE SAFE
SAFE AND HEALTHY SPACES
2. This is how we have taken care of our workspaces during the pandemic:
TRANSPARENCY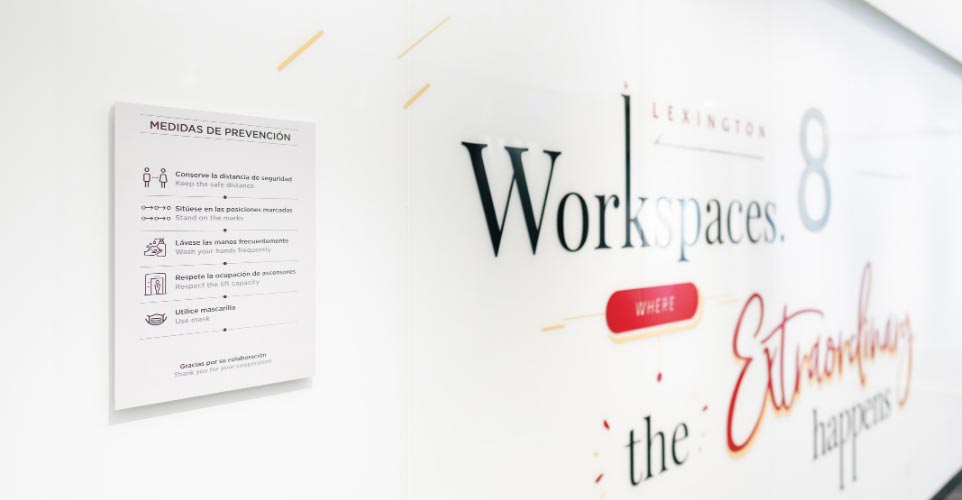 We keep a constant flow of information with our customers about every decision we make.
HYGIENE AND DISTANCE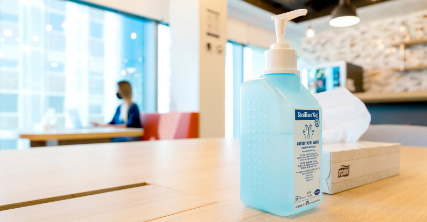 We are putting extra effort on our spaces' hygiene and on assuring the safety distance, what led us to obtain the recognition identification "Guarantee Madrid" and "Safe Spaces™".
CONTACTLESS TECHNOLOGY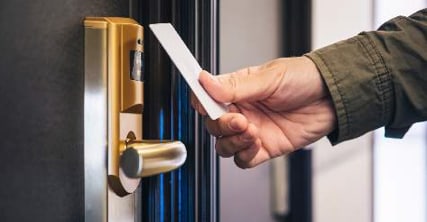 We are implementing contactless processes so as to avoid contact as much as possible. This way, prevention and safety activities are assured for the sake of every Lexington user.
Safety and hygiene measures
With every guarantee provided by the #SafeReturnToLexington Plan


Building protocol
Specific safety measures regarding informative signs, air conditioning and thermographic cameras.

Safe Seat areas
Informative Safe Seats stickers have been placed on those areas that can be used, maintaining the recommended social distancing.

Disinfection areas KMZERO
Disinfection points "KMZERO" for you to use as both you enter and exit our spaces.

Cleaning intensification
We have stablished specific measures and procedures on cleaning and disinfection activities.

Maximum capacity reduction
The maximum capacity of our spaces has been reduced and limited so as to avoid big crowds.

Visitors registration
We are keeping track of every visitor so we can properly control the maximum capacity of our spaces and anticipating any consultation to be made to the Health Authorities.
Flexible schedules
Flexible schedules for meeting room bookings.

Cancellations free of charge
Cancellation at no cost in case of a new COVID upturn.

Safety distance
Meeting rooms have been reorganised in order to maintain the recommended social distancing.

Direct access
We facilitate access directly to the floor in which the meeting is being held.

Disinfection and cleaning activities
After every use, we disinfect each space completely.

Safe catering
Catering services are put under a stricter protocol.

Hygienic kits
Hygienic and disinfectant kits are available for your team's safety.

Disinfection special procedures
The one that best suits your company's specific needs.

Disposable material
We can help you get disposable material for everyday use.

Safety screens
Safety screens will be available to place in your office to define each workstation.

Safety visual material
We will take care of any safety visual element you may request.

Adapted reconfiguration of the space
We will help you with the reconfiguration of your office to ensure social distancing within your team.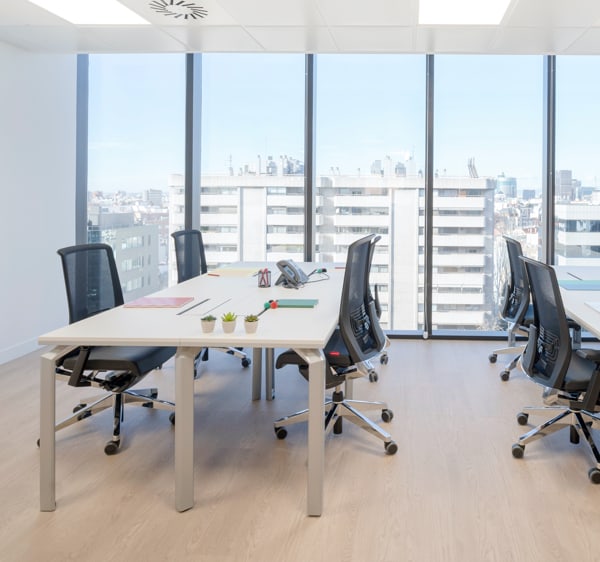 Be efficient. FLEX Beneifts
3. Now more than ever, flexible spaces are the best choice for your workplace.
We help you minimising your investment risk
Weekly or monthly flexible contracts
Ready to go spaces
No Capex or implantation costs
All general expenses and services included
Business address and call and courier handling also included
Meeting rooms voucher and unlimited access to our common areas and activities
No unexpected events of economic nature
Growth adjustment