Wait a minute, did you say RENAZCA? Yes, indeed. Rumour is spreading that there is a huge project going on by the best architects around the world in order to give a definite boost to our AZCA area. And this project is called RENAZCA.
The AZCA financial district
AZCA encompasses some of the most symbolic buildings of Madrid. We are sure El Corte Inglés of Castellana, The Picasso Tower, Raimundo Fernández Villaverde or the Orense street actually do ring a bell, don't they? Can you visualize it? Full of pedestrian streets with two and three different levels, more than 25k people working here every day… Great, so now try to imagine all that space turned into a natural, open and sunny 24/7. That is RENAZCA and, although we'll have to wait until the end of 2022 to see it all begin, the team is ready and the minds set towards making this part of the city a portrait of sustainability and inspiration. An international icon, no less!
The AZCA area encompasses some of the most symbolic buildings and streets of Madrid: El Corte Inglés of Castellana, The Picasso Tower, Raimundo Fernández Villaverde, the Orense street or the Castellana 79 building.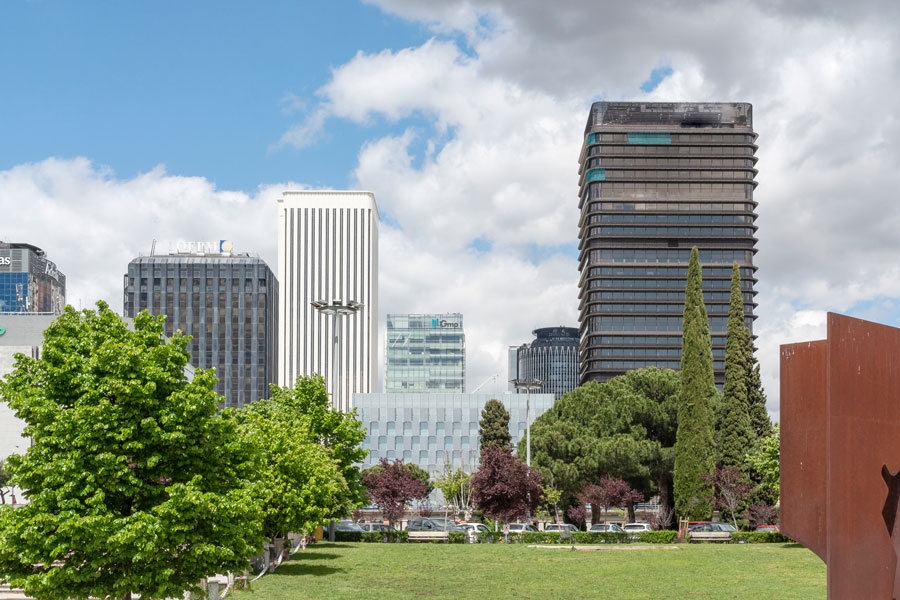 We are proud to say that our coworking space in Paseo de la Castellana 79 has become the flagship of Lexington. It is located at the very core of the financial heart of Madrid, and so am I!
Let me introduce myself: my name is Cristina Seriñá and I'm the Office Manager here, at the Lexington centre in AZCA. After all these years, I can't but feel that AZCA is my past, my present and the future of Madrid!
Honestly, my connection with AZCA has always been special, there is something there between us, and not only because I've been working here for 6 years! I've grown up here, you could say, and for me, this particular area embodies the essence of Madrid perfectly, its diversity, its lively atmosphere, both day and night. Although, and I think many would agree with me on this, I strongly think it has so much more to offer. All that open space, the different-levelled structure… it is not very well invested, in my humble opinion. But isn't that the mail goal of this RENAZCA project?
"Under the umbrella of sustainability, an urban ecosystem of great biodiversity will be formed by native plant species. Using a course reminiscent of an ancient riverbed and other water management measures, rainwater collection and systems for irrigation and water reuse will be undertaken." (renazca.org)
I think RENAZCA is such a wonderful idea! An illuminated green area, sustainable and committed to the environment and to everybody working and living here… I think this is the perfect metamorphosis, right place, right time! After all these months of uncertainty we got to live, we all needed some fresh air (never said better!).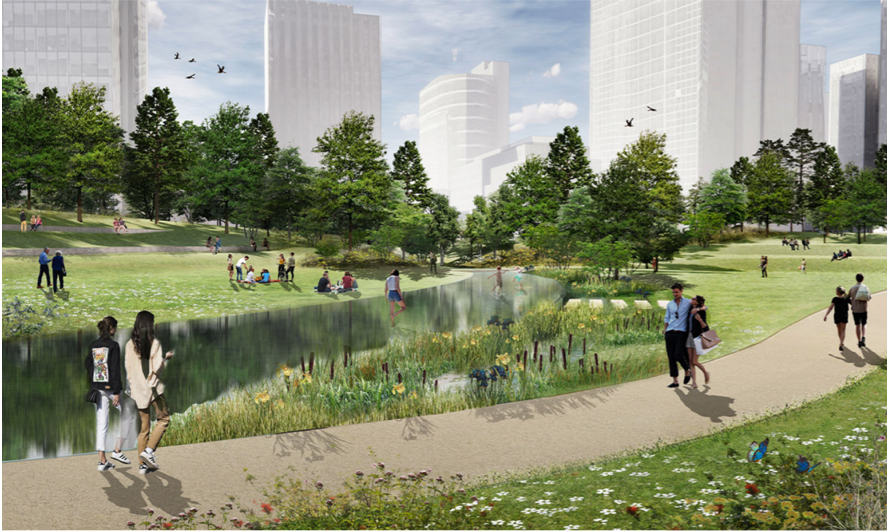 Lexington and RENAZCA
What about Lexington? Well, our AZCA centre has become in some ways the flagship of our company, so we couldn't be more excited to be at the centre of this whirlwind of change. We see our path parallel to this new conception of the area and the new image they want to portrait: recovering native flora and fauna, ancient river flows… a bit like restoring its essence. It's funny, but I can see our #RebelDNA personality in this project. Tearing the established apart, looking for better ways to do things…
Sure, we keep growing up and growing mature as a company. It's inevitable these days! Our philosophy follows sustainability and commitment with the environment.  Some of us work every day at the office for us as a company to be able to make better, to achieve a zero-waste policy, everything counts!
I truly believe this new AZCA, RENAZCA, is going to be a worldwide icon! Such an ambitious project, not only looking for improving the infrastructure itself, but also the quality of life of everybody working and living here. I hope we can all appreciate it, and take good care of it!
Central Green in AZCA, a space for 10k events
And with an auditorium and a concert hall and all! Theatre, live music… there will be sportive areas and a great environment to practice Pilates and yoga in the open. I would also say, between you and me, that it would be a great idea to include a kindergarten. It would help a lot family reconciliation among us working here. It's a huge step, isn't it? AZCA is and will be (even more, if so!) the perfect place to come to work and to stay hours and hours afterwards!
The financial heart of Madrid
It looks good on the personal and leisure side, but what about companies? RENAZCA will strengthen the financial heart of Madrid, which is the best news for business here! I'm sure many profits will come our way, and stronger corporate relationships as well!
By this point, we all agree on AZCA having way more to offer than it does now, it has a lot of potential. Just like the reception, AZCA is where everything happens! This project is what was missing for us to feel 100%  interconnected!
Just like the reception, AZCA is where everything happens!
RENZCA as an image
An image? Even though we won't see this dream come true in the short run, I can see a clear scenario in my mind whenever I think about this green zone. We'll finally be able to see that scene from American movies where hundreds of people take off their high heels and ties to sit down and eat a sandwich in Central Park, pure NYC style!
As I told you, this project is thought to start in late 2022, but we are already super excited to see how it turns out! One way or another, our Lexington team and everyone in our community, whether they have their office in our Castellana 79 spaces or booked a meeting or training room, we will all be part of the change, involved in the ( r)evolution. Oh, we are thrilled!
Don't forget to pay a visit to the official RENAZCA project website and tell us, which image pops up in your head for this green zone in the financial heart of M